The 47th Convention was held Nov 24-26, 2016 in Saskatoon.
Climate change is arguably the most crucial issue of our time. Agriculture is directly affected by climate change, but is also a major greenhouse gas emitter globally. We need to change our practices to adapt and reduce our emissions. Agriculture exists in a changing economic, political and cultural climate as well. Trade agreements, regulations, subsidies, marketing boards, and corporate mergers all have an impact on our livelihoods and ways of life. This year's convention workshops, panels, resolutions and debates will highlight the impacts of these different climatic changes and point to ways we can improve our prospects by working together.
Note – Panel speakers' presentations are posted under their bios, where applicable.
Audio recordings of the 47th Annual NFU Convention are available. Download and print an order form.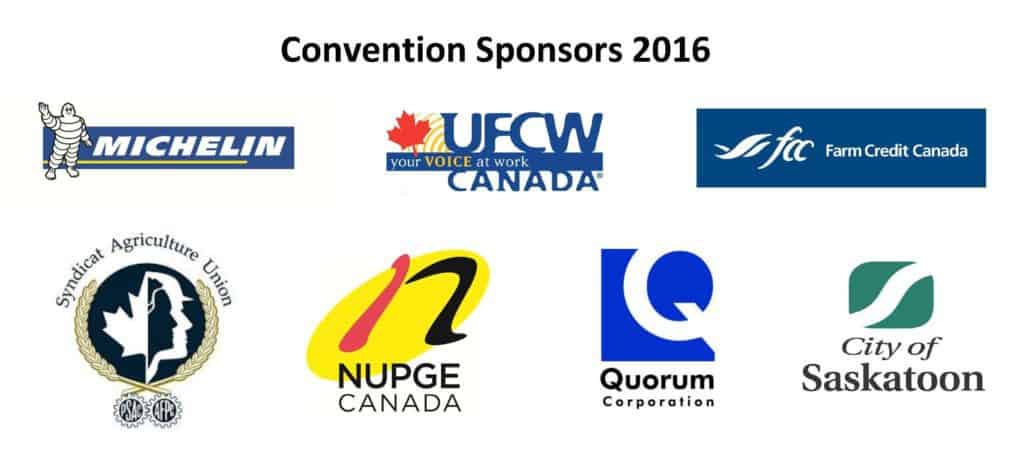 Thursday Nov. 24 Free Public Event at 7 PM
Agriculture in a changing economic, environmental and societal climate: our path to a sustainable food system future
Kent Mullinix, Keynote Speaker

Kent Mullinix is dedicated to revitalizing family-based agriculture and farming communities while advancing food and farming systems that embody environmental stewardship, social equity, justice and economic viability. As Director of the Institute for Sustainable Food Systems at Kwantlen Polytechnic University in BC, he leads a multidisciplinary team that promotes sustainable food and farming systems through applied research and extension. He focuses on realizing the potential of re-regionalized agriculture and food systems, and considers how they can help farmers and communities meet the challenges of our changing climate. View Kent's presentation
Wednesday, November 23 — 7 to 10 pm: Home Grown Music — NFU social and jam session
Pack your musical instruments and warm up your singing voices for an informal acoustic jam session at our Wednesday night social. Pick out some tunes in the key of D, G or "eh" (for Canada) and help us put the "culture" back in agriculture. If you're not musically inclined, just come down to register for Convention and stay for a chat, a snack or a drink. Please feel free to invite friends or family members who may be interested in joining the NFU!
Friday, November 25 — 6:30 pm: Banquet and Dance
Bring your dancing shoes to Convention! Rural Roots Trio will play for our Friday Banquet and Dance. Fiddlers JJ Guy and Troy MacGillivray with Cathy Sproule on piano play lively music from the Saskatchewan fiddle tradition — music from the one‐room schoolhouse dances of old with a modern flair!
Saturday, November 26 — 7:00 pm: Film screening: Migrant Dreams
A powerful feature documentary by director Min Sook Lee and producer Lisa Valencia-Svensson, tells the undertold story of migrant agricultural workers struggling against Canada's Temporary Foreign Worker Program (TFWP) that treats foreign workers as modern-day indentured labourers. Presented by the NFU'sInternational Program Committee. Click on the poster image to view the film's trailer.
Convention Program Highlights:
9:00 AM: WORKSHOP 1: Generating Resources, Supporting Leadership
Adequate funding is always an issue for active farm organizations that do not have the benefit of "check off" dollars. This workshop will support NFU members by strengthening their organizing, fundraising, and community engagement skills. It will enable members across the country to understand what others are doing so they can share best practices. NFU Institutional Strengthening Project coordinators, Julie Derksen (Donor Development) and Aric McBay (Region 3 Membership Development) will lead this workshop.
Julie Derksen is the product of three generations of family farming in Saskatchewan. After graduating with history and business degrees from the University of Manitoba she spent the next seventeen years working in fundraising and development in a variety of non-profit organizations. Currently, she works part-time in donor relations at Canadian Mennonite University in Winnipeg as well as her donor development work with the NFU.  Julie has also been part of the Metanoia Farmers Collective, an urban vegetable CSA in Winnipeg, and is fine-tuning seed saving techniques with her family on their fifteen acres of farmland in New Bergthal, MB.
Aric McBay is a farmer, author, and organizer based near Kingston, Ontario. He is the author of three books and writes about social movement strategy. He is the Membership Development Coordinator for the National Farmers Union – Ontario.
10:30 AM: WORKSHOP 2: For the Record! – with Cory Ollikka and Karen Pedersen
Effective advocates use knowledge, empowerment, and engagement tactics. Whether speaking at a Parliamentary Committee or calling a local phone‐in show, after this workshop you will be able to use the dynamics of empowerment and engagement to get your good ideas onto the public record for lasting influence. It's all part of our democratic process!
Cory Ollikka is a 4th generation farmer from Waskatenau, Alberta.  He operates an organic grain and beef cattle farm as well as holding an off-farm job in Municipal Government.  Cory has held numerous positions at the District, Regional and National levels of the NFU since 1986 and was the NFU's 7th National President from 1998-2001.  He has helped chair several NFU conventions.
Karen Pedersen is a 5th generation beekeeper who farms at Cut Knife, SK with her parents. She is a past NFU Womens President and past NFU Youth President. Before settling in Cut Knife, Karen worked on farms in the United States, Denmark, Grenada and New Zealand.
Thursday afternoon: PANEL 1:
The Changing Climate for Agriculture Policy
Speakers: Darrin Qualman, Ian Mauro, Blain Snipstal
Darrin Qualman is a writer, researcher, and activist.  He is currently working as the Coordinator of the NFU's Manitoba Project on Climate Change and Greenhouse Gas Emissions Reduction—an ambitious project to compile a list of on-farm measures and government policies that can, together, lead to a 30 percent reduction in agricultural emissions by 2030 and a 50 percent reduction by 2050.  He has farmed and worked in the computer sector.  He served as Director of Research and Executive Secretary of the National Farmers Union from 1996 to 2010.  Between 2010 and 2015 he returned to university to obtain two more undergraduate degrees: in biology and history.  He is currently working to find a publisher for a book on energy and material flows in human civilizations and natural systems. View Darrin's presentation
Dr. Ian Mauro is an Associate Professor in the Department of Geography at the University of Winnipeg. He is a former Canada Research Chair, renowned filmmaker, and has served on various expert panels related to northern food security and energy. He has completed a trilogy of climate change films across Canada – including Qapirangajuq: Inuit Knowledge and Climate Change; Climate Change in Atlantic Canada; and Beyond Climate – which all focus on local and traditional knowledge. His most recent project called Climate, Cinema and Cartography will merge film and mapmaking to explore climate change in the Canadian Prairies. Mauro's work has been featured in the Berlin International Film Festival, Smithsonian Institution, National Geographic, Royal Ontario Museum and various film festival and academic conferences worldwide.
Blain Snipstal is a returning generation farmer part of the Black Dirt Farm Collective in Maryland. He is part of the International Youth Articulation of La Via Campesina (LVC). Blain became involved in LVC in 2010 through his work with the Rural Coalition. He is also a board member of the Southeast African American Farmers Organic Network (SAFFON) and an agroecological technician for the Farmworkers Association of Florida.He highlights the connections between food sovereignty and agroecology, with agroecology being a key to bringing about food sovereignty.
Friday morning: PANEL 2
Indigenous Food Sovereignty: The Canadian Context
Speakers: Winona Wheeler, Harry Lafond, Barry Hill
Winona Wheeler is an Associate Professor in the Faculty of Indigenous Studies and the University of Saskatchewan. She is a member of the Ockekwi Sipi (Fisher River) Cree First Nation in Treaty 5 Territory (northern Manitoba) with family origins in Gordon's First Nations, Treaty 4 Territory (southern Saskatchewan). Winona has written and published widely. Her research focuses on Cree intellectual traditions and oral history methodologies, Indigenous knowledge, anti-colonial theory & approaches, history of Indigenous-settler relations, land claims & Treaty rights, community-based/engaged research, and history of First Nations education, Indian residential schools, missionary relations. She is active in the community in many ways, including contributing a bi-monthly column in the local Indigenous newspaper Eaglefeather News, working on an oral history of the Ockewi Sipi peoples and overseeing major research projects for the Treaty Relations Commission of Manitoba.
Harry J. Lafond is the Executive Director of the Office of the Treaty Commissioner. He has a wide range of experience in the community, in politics, and in academics, which he brings to the OTC. Harry has worked extensively in the area of education including as the Director of Education, and earlier as principal of the kihiw waciston School at Muskeg Lake Cree Nation. Harry was the Saskatchewan representative to the Chiefs' Council on Education, Assembly of First Nations (1994-2000). He served on the Board of Governors for the University of Saskatchewan (1995-2002), and was also appointed to the national Federal Task Force on Education (2003). View Harry's presentation
Barry Hill and his wife Cheryle operate Hillsfield Farms, a 2,000 acre grains and oilseeds farm on the Six Nations of the Grand River Territory. He has worked constantly to promote agriculture both as a business and an asset to the Six Nations community. Barry has served as President and/or director of many organizations, including  Ontario Soil and Crop Improvement Association, Brant County Federation of Agriculture,  First Nations AgriGroup Integrated Grain Processors Cooperative Ethanol Plant and Two Rivers Community Development Fund.  He has also been a panel member and a consultant to the Six Nations Economic Development Department.  He writes a column on energy, agriculture and local issues for the Brantford Expositor, and is a member of the Community Editorial Board. From 1993 until 2003 he taught mathematics and computers at Six Nations Polytech. Prior to that he had a career as a professional engineer.
Friday afternoon: PANEL 3
Can Supply Management provide a living for all family farms?
An introduction to Kitchen Table Talks (this will be an interactive session led by members of the NFU Strategic Membership Planning Committee)
Saturday morning: PANEL 4
Regulations: Red Tape or red herring?
Speakers: Terry Boehm, Christy Morrisey, David Zirnhelt
Terry Boehm has had a long involvement with the NFU, including his current position as Chair of the Seed and Trade Committee and as President (2009 – 2013). He has been analyzing legislation, trade agreements, government papers and reports, academic journals and reports and corporate data as part of his work for the NFU. He has particular expertise in governance of the Canadian Grain Commission, rail transportation regulations and intellectual property issues as they relate to seed, seed legislation and variety registration systems in Canada.
Dr.Christy Morrissey is an Associate Professor at the University of Saskatchewan in the department of Biology and jointly with the School of Environment and Sustainability. Her academic background and research experience are in the fields of avian ecotoxicology, aquatic ecology, ecophysiology, and wildlife conservation. Christy has 17 years experience working on issues related to environmental contamination and the use of birds as indicators of environmental problems. She has published over 45 journal articles, one book chapter and a co-edited the book Wildlife Toxicology: Forensic Approaches.  She has been an advisor and member of the IUCN Task Force on Systemic Pesticides and works closely with provincial and national governments on regulatory issues of pesticides, wetlands and the conservation of migratory birds. View Christy's presentation
David Zirnhelt is from the Cariboo region of BC where he is a rancher and an economic development and land use policy consultant. He and his family raise grassfed beef, woodlot products and lumber and also build timber frame houses. David does on-farm research and production of industrial hemp and silvopasture. He has worked extensively with BC First Nations. David was a BC MLA from 1989 to 2001 and was a Cabinet Minister responsible for several portfolios. He now chairs the Industry Advisory Committee and is a part-time instructor with the Thompson Rivers University Applied Sustainable Ranching Program. A board member of the Cariboo Cattlemen's Association and the Agriculture Enterprise Centre in the South Cariboo, he also is elected to the BC Cattlemen's Research Committee.
Saturday afternoon: PANEL 5
Farming in a Changing Climate
Speakers: Iain Aitken, Shannon Jones, Donald Voss, Chris Wooding
Iain Aitken grew up on a multi-generational beef and sheep farm in South West Scotland. In 2000 he decided to sell the family farm and emigrate to Canada, purchasing a farm near Rimbey, Alberta. From 2001 to 2015 Iain, along with his wife and daughter, ran a commercial and purebred cow/calf operation with direct marketed grass-fed beef as a side line. In 2015 the family relocated their operation to Belmont in South West Manitoba. Throughout his career, Iain has always operated low-cost, grass-based systems using minimal machinery. For 27 years he has used the Luing breed of cattle, finding their easy care, maternal genetics ideally suited to grass-based production. Iain is the Secretary of the Canadian Luing Cattle Association and has been a member of the NFU since 2003. View Iain's presentation: Part 1 and Part 2
Shannon Jones owns and operates Broadfork Farm with her partner Bryan in River Hebert, NS. They grow vegetables, cut flowers, and herbs on their farm as well as seed crops and laying ducks. Broadfork Farm is certified organic and a certified Bee Friendly Farm. Shannon is motivated by agroecology and health and is always striving to farm better according to those values. View Shannon's presentation
Christopher Wooding is an organic farmer who grows landrace cereals in eastern Ontario. His 170-acre farm, Ironwood Organics, produces winter and spring wheats, oats, rye and barley and has further diversified with a small hops yard, nut orchard, top bar bees and some forest permaculture. Other farm projects include landrace potatoes, thatching and micro-malting. Ironwood Organics is working towards climate ready agriculture. Chris is also the miller at the Old Stone Mill, a 200-year-old grist mill in Delta Ontario that mills stone ground flour and rolled oats, and also supplies grain to the craft beer market. His previous careers include Geographic Information Systems consulting, work that contributed to his view of the interconnectedness of the environment, food, health, diversity, sustainability and resiliency. View Chris's presentation
Don Voss has been a farmer all his life, and began raising cattle at the age of 13. Today, with his wife Carolyn and son Ben he farms 1750 acres, mixed cattle and grain in the Glenbush-Belbutte area near Spiritwood, SK. Don has always had an interest in mechanics and welding. He ran a repair/machine shop for ten years in addition to farming, serving customers in a 40 mile radius. His love of machinery led to collecting old tractors, which he brings back to life after years of neglect. Don's mechanical aptitude and willingness to try new things also led him to experiment with biofuel production, pressing canola to run his diesel equipment.