The Save Our Seed Campaign
Seed Regulatory Modernization
Today's farmers have always operated within the current seed regulatory framework – it is our "normal" and it provides a strong foundation for our food system. It is designed to:
Protect farmers from unscrupulous seed dealers, and from fraud and misrepresentation within the seed system
Establish standards for germination and purity, and prevent proliferation of noxious weeds and crop diseases through seed grade tables
Regulate imported seed
Provide a trustworthy mechanism to supply new varieties to farmers via pedigreed seed production and certification
Build, maintain, and protect the value of Canadian agricultural products for farmers and end-users with an evidence-based and transparent variety registration process
Ensure continuous improvement by requiring new varieties to meet or exceed performance of check varieties in each growing region
Ensure farmers can easily get relevant and meaningful information about the seed they use
While it may seem natural and permanent, it is now seriously at risk. In response to the Seed Synergy lobby and the corporate-led Economic Strategy Table for Agri-Food recommendations, the federal government has agreed to open up all of the Seeds Act Regulations for a complete overhaul. The Canadian Food Inspection Agency (CFIA) is managing the consultation process. It has set up a  Seed Regulatory Modernization Working Group  to provide recommendations for changes to the regulations. There will be public consultation opportunities at several points during the process, and the NFU will be involved.
Save Our Seed Webinar with Terry Boehm
In 2019 Ag Canada held consultations on proposals to increase seed royalties either by an End Point Royalty or with Trailing Contracts. The proposed royalty scheme would have farmers who use their own seed pay millions of dollars more to seed companies every year, and make illegal the ancient practice of freely saving and reusing seed by creating new regulations under the Plant Breeders Rights Act.  In this February 21 2019 webinar, Terry Boehm, Chair of the National Farmers Union Seed Committee and former NFU President, explains how the proposed royalty system would harm farmers, citizens, and society in general — and what we can do to stop this from happening. The webinar also included a Question and Answer session.
Click here to view the PowerPoint presentation given or watch the webinar (1.25 hour):
Recent Op-Eds and Media Releases
Campaign Resources:
Save Our Seed Petition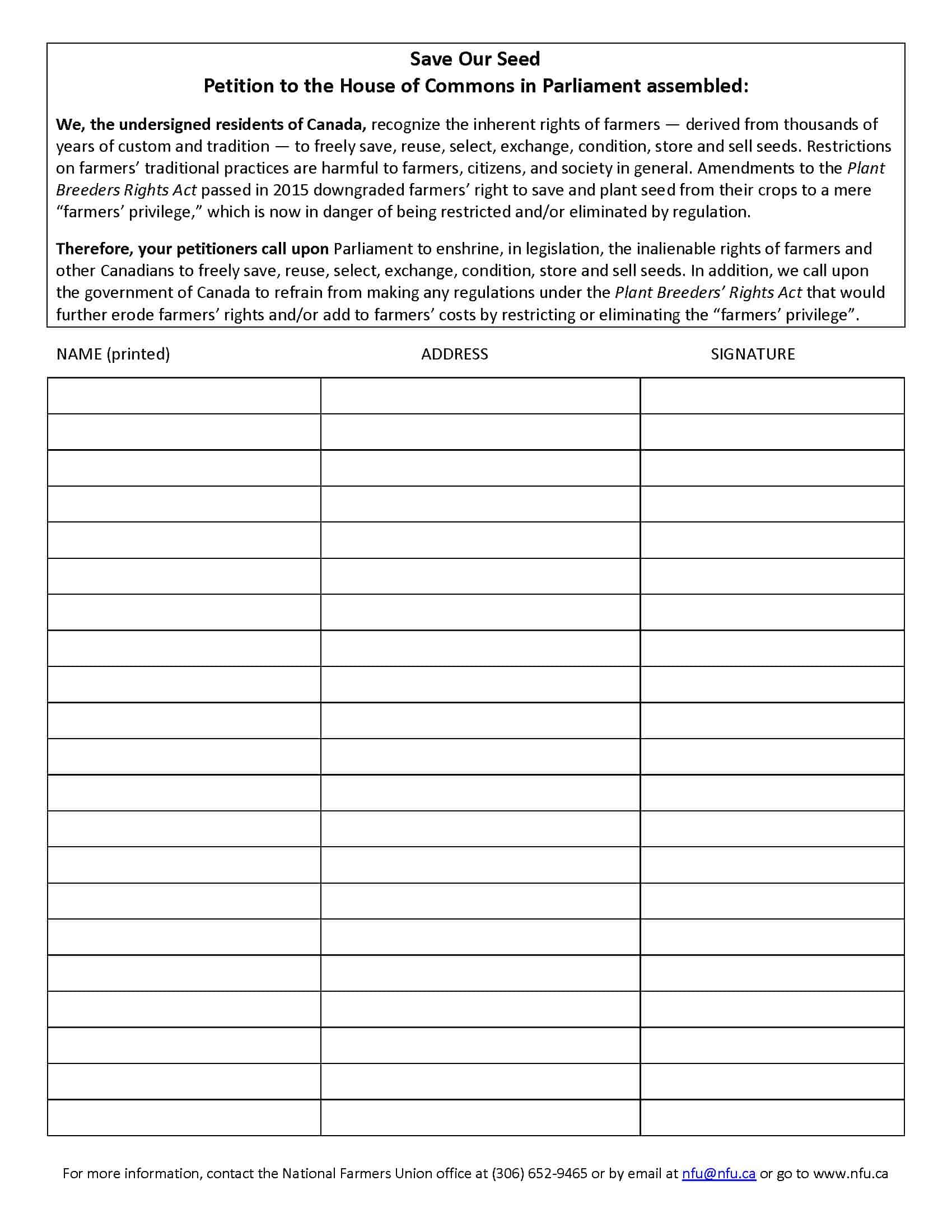 – Download and print this petition and collect signatures. Download the French petition here. Whenever you have petitions with 25 or more signatures send the original completed petitions to your MP for presentation in Parliament. No postage is required when you send mail to your MP at House of Commons, Ottawa, ON, K1A 0A6.  You can also deliver the petitions to your MP in person at their constituency offices. We also encourage you to send a copy of the completed petitions (photocopy, scan or fax) to the NFU National office along with the name of the MP you submitted them to. You can also download the instructions here.
Save Our Seed Postcard – Download this postcard and send the file to your local print shop for printing on card stock then distribute to people to send to their MPs. Just write in the MP's name – the postcard is pre-printed with the House of Commons mailing address.
Save Our Seed leaflet  SOS – Save Our Seed! A new initiative by the Seed Synergy group is advancing the idea that plant breeding must be financed by charging farmers royalties on farm saved seed or the farmer's entire crop. We can stop this from happening by getting involved and speaking out!  Download and print this 2-page SOS handout for distribution at events.
Farm Saved Seed Royalties: What you need to know – The National Farmers Union calls for keeping farmers' right to freely save and use our own seed, and for public funding and farmer-controlled check-off funding to support plant breeding. We oppose any regulation to take away or restrict the "farmers' privilege" under the Plant Breeders Rights Act. Download and print this 2-page FSS handout for distribution at events.
Meet your MP – An NFU Guide – Check out this "how to" guide then contact your MP to set up a meeting to discuss the seed issue.
Keep Farmers' Right to use Farm Saved Seed
The corporate seed industry is lobbying the federal government to take the next step towards a system to make farmers pay seed companies for seed every year even when we use farm-saved seed. They are proposing to change regulations under the UPOV '91 Plant Breeders Rights Act, and are considering two approaches – End Point Royalties or Trailing Contracts that would apply to new varieties registered after February 2015.
The End Point Royalty approach would require farmers to pay a royalty on their harvested crop (a per bushel royalty) if they grow a newer variety. The Trailing Contract approach would require farmers to ask the seed company for permission to plant seed saved from a previous crop of a newer variety and make farmers pay them a royalty when using farm saved seed. The seed industry likes the Trailing Contract option best because it would bring in more money and would involve setting up a comprehensive data collection system to track farm saved seed users.
The seed industry expects to collect over $100 million of dollars every year from these compulsory payments. This money would go to seed companies such as Bayer, Syngenta, BASF and DowDupont. The system for charging a royalty on crops harvested from farm saved seed would be developed for wheat first, with the intent of applying it to other cereal crops, pulse crops, and other crop kinds later.
The NFU opposes the UPOV '91 seed law, which Canada enacted in 2015, because it turns farmers' age-old right to save and use farm saved seed into a privilege that can be taken away by regulation.
The NFU is opposed to End Point Royalties and Trailing Contracts. These are simply ways to increase the monopoly power of seed companies by forcing farmers to pay more for seed, restricting farmers' right to save seed and making us pay them for seed we grow on our farms.
We call for keeping farmers' right to save and use our own seed, and for public funding and farmer-controlled check-off funding to support plant breeding. The government must be stopped from bringing in a regulation to take away the "farmers' privilege" under the Plant Breeders Rights Act.
The International Union for the Protection of New Varieties of Plants (UPOV) is an intergovernmental organization that has created model laws that allow seed developers to claim property rights similar to patents. Canada joined UPOV and adopted its 1978 model law by passing the Plant Breeders' Rights Act in 1990. The 1991 model law, known as UPOV '91, enhances the rights of multinational seed companies such as Bayer, Syngenta, Dow-DuPont, Limagrain, Viterra, Pioneer, and Cargill, while restricting farmers' rights. Canada formally adopted UPOV '91 on June 19, 2015.
By adopting UPOV '91 Canada has:
reduced the freedom and independence of Canadian farmers by making it much more difficult to save and reuse seed of new plant varieties, forcing them to pay more for seed;
opened the door to an end-point royalty system that would allow seed companies to collect royalties on the whole crop grown from new varieties – including each cut of hay on forage crops – if they cannot, or do not collect it on the seed.
transferred millions of dollars every year from farmers to plant breeders' rights (PBR) holders
consolidated the power and control of world's largest agribusiness corporations over seed, and thus over the Canadian farming and food system.
As well, as a result of Canada adopting UPOV '91:
Farmers right to save, store or clean new varieties of seed for replanting has been converted to a privilege — which can be withdrawn by regulation. Read Bill C-18 and Farmers Privilege to learn more.
Companies are entitled to royalties for at least 20 years on each new variety for which they hold PBRs (up from the former 18 years under Canada's UPOV '78 regime.)
Seed cleaners that condition and treat seed, as well as mills and processors that buy crops grown from new varieties will require assurance that the farmer-seller has paid PBR royalties to avoid the risk of litigation by the PBR holder.
Demands under UPOV '91 for royalty payments, along with potential future restrictions on farm-saved seed, will have long-term implications for Canadian agriculture that will change its structure and negatively affect farmers' livelihoods. Some of the likely changes include:
higher per-acre cost of production due to higher seed prices;
lower margins because if end-use royalties are implemented, they will reduce potential gross income at sale;
fewer and larger farms because reduced profitability will drive larger scales of production;
loss of independent seed cleaning businesses as farmers shift toward buying seed directly from PBR holders or their licensees instead of cleaning a portion of their harvested crops for use as seed;
increased litigation within the value chain as PBR holders seek to maximize royalty revenues;
increased use of inputs such as fertilizers, herbicides and insecticides as farmers seek to maximize yields and reduce risks to cover the increased cost of seed;
negative effects on air, water, soil, biodiversity due to increased use of inputs;
loss of vibrant rural communities as economic activity decreases because wealth is transferred from local farmers to distant, often foreign, holders of PBRs.
UPOV '91 also interacts with other parts of Canada's seed regulatory system. Proposed and recent changes to the Variety Registration Regulations and the privatization of pedigreed seed crop inspection all work together to tighten the control seed companies can exert over farmers and the food system. The NFU warned about these mechanisms in its 2006 brief, An Analysis of the Canadian Food Inspection Agency's "Proposal to Facilitate the Modernization of the Seed Regulatory Framework" UPOV '91 is one more tooth on the "corporate ratchet" being used to increase and entrench the power of global agri-business corporations over farmers and our food supply.
There are alternatives to UPOV '91!
Promote the adoption of a truly farmer-friendly seed law that balances the interests of the public, farmers and plant breeders in a manner accepted by the Canadian public, and allows Canada to meet its international obligations for intellectual property rights protection.
Restore Funding to Public Plant Breeding. Canada's public plant breeders are internationally respected and have made immeasurable contributions to Canadian agriculture. For example, canola was developed by public plant breeders at the University of Manitoba in the 1970s. Laird, a lentil variety suitable for prairie production, was developed at the University of Saskatchewan's Crop Development Centre (CDC). Nearly all of our wheat varieties have been developed by AAFC in collaboration with several Canadian universities. None of these varieties would have been part of Canadian agriculture without the government's long-term support for public plant breeding. The rewards of this public investment are clear.
Federal budgets from 2012 to 2015 reduced funding for public plant breeding, and remaining dollars are being directed to public-private funding partnerships and commercialization initiatives. Public funds therefore are skewed toward supporting private commercial interests rather than public-interest research for public benefit.
Take Public Plant Breeding to Variety Level. The federal government stopped funding public plant breeding of important cereal crops beyond the development of germplasm, which must then be sold to private breeders to develop varieties for commercialization. The new varieties so developed are privately owned and subject to plant breeders' rights. Farmers, whose check-off dollars support this research, will pay yet again through the increased royalties granted under UPOV '91. This system of private interests benefitting twice – first by using public research funding and then by collecting royalties on seed and production – is unjust and against the public interest.
Protect farmers from expensive court litigation regarding plant variety and patent disputes. The NFU recommends that the government create a body similar to the Canadian Grain Commission that would settle disputes. Farmers would then be on a level playing field with multinational companies, and legal fees would not impede their defense.
So-called "trade deals" are being used to enforce plant breeders rights and prevent farmers from saving seed. See CETA and C-18 = Too Much Power for Seed Companies and Factsheet #6 for information about how CETA is connected with the attack on our right to save seeds. The Trans Pacific Partnership (TPP) negotiations requires countries to sign on to UPOV '91.
At the 2012 NFU Convention, then NFU President Terry Boehm gave a presentation called "UPOV '91 Again" outlining the state of the attack on seed saving.
You may also be interested in the film, Seeds of Change, a documentary produced as part of a larger study, a farmer-focused Risk Analysis of Genetically Modified Crops in the Canadian Prairies
In 2005 the NFU worked with allies and citizens across Canada and we were able to stop changes to the Seed Act that were being proposed through the Seed Sector Review.
Together, we can retain control of Canada's vital seed supply.
The corporate seed industry is pushing for even MORE power to control seed with its "Seed Synergy" campaign.
The corporate seed sector is carrying out a major project they call "
Seed Synergy
" which aims to influence the expected review of Canada's 
Seed Act
 and Regulations.
The "Seed Synergy Collaborators" are the Boards and Executive Directors of 6 industry organizations that are dominated by the multinational seed companies: 
Canadian Seed Growers Association
 (CSGA); 
Canadian Seed Trade Association
 (CSTA); 
Canadian Seed Institute
 (CSI); 
Commercial Seed Analysts Association of Canada
 (CSAAC); Canadian Plant Technology Agency (CPTA) (CPTA has no website – it hires private investigators to find and sue farmers suspected of PBR and patent violations); and 
CropLife Canada
. They are promoting an extreme make-over of Canada's seed regulatory system that would eliminate public oversight and allow corporations to maximize their power and increase their wealth under Canada's new UPOV '91 Plant Breeders Rights regime.
The Seed Synergy "
Green Paper
" (draft) published in 2017 outlines their vision. On the surface, it tries to appear as if it is solving practical problems and promoting efficiency. In fact, it would put the multinational seed and agro-chemical corporations in charge. A careful reading of the Green Paper indicates that Seed Synergy is proposing to:
Fast-track new patented GMO crop approvals to help biotech companies increase their returns from seed royalties.

Replace our public the variety registration system and its quality control measures with a list of any and all varieties seed companies want to sell.

Empower private seed companies to oversee the seed certification processes and control all the data involved, paid for with tax dollars.

Replace independent third-party field inspection of seed crops with the seed companies inspecting fields of the farmers contracted to grow their seed varieties.

Water down certified seed standards to the lowest level customers will tolerate as a way to save money.

Reduce common seed use as much as possible by making it expensive, difficult, impossible and/or illegal for farmers to sell a crop grown from farm-saved seeds.

Make farmers pay End Point Royalties to seed companies on their harvested crops. Double seed companies' royalty revenues by having the tax-payer match EPR payments by farmers.

Restrict the use of Farm Saved Seed by taking away farmers privilege, requiring company permission and payment of royalty to use harvested grain to seed the next year's crop.

Create an industry-controlled database of all seed sales transactions to enforce Plant Breeders Rights royalty payment, make it easier to sue farmers suspected of infringement, and to identify popular royalty-free varieties for de-registration.

Make sure seed for any crop new to Canada is subject to Plant Breeders Rights.

Lobby for international acceptance of seed and crops contaminated with unapproved GMOs

Intensify Canada's involvement in the international UPOV '91 organization to enhance the power of seed companies to extract royalties and control access to seed.

Remove public funding from government regulatory agencies and authorize a consortium of multinational seed companies to set priorities Canada's seed system.

Create a super-lobby group of agro-chemical biotech and seed companies to regulate seed in Canada.
Amended PBR Act restricts the rights of farmers and other Canadians to save, reuse, exchange, and sell seeds.
On Feburary 27, 2015, amendments to Canada's Plant Breeders Rights Act came into force after Bill C-18 was passed by Parliament. Now, the UPOV '91 Plant Breeders Rights regime applies to all new plant varieties if they were granted Plant Breeders Rights after that date. Varieties that were on the market before February 27, 2015 continue to be dealt with under the previous, UPOV '78, rules. For a 2-page printable summary of the current situation, see UPOV Update, Feb. 2016.
For more information about how the current law affects your seed-saving rights, please see the NFU newsletter article, Seed saving under the amended Plant Breeders Rights Act. The Canadian Seed Trade Association provides a database of crop varieties registered in Canada and their Plant Breeders' Rights status where you can find out whether the varieties you grow are under UPOV '91, UPOV '78 or in the public domain.
On December 9, 2013 Bill C-18, the "Agricultural Growth Act" was introduced into Parliament. It was an omnibus bill that, among other measures, amended the Plant Breeders Rights Act to conform with UPOV '91. The NFU opposed this bill. Our actions included a citizens campaign called Stop Bill C-18 as well as engagement with the legislative process. NFU Seed and Trade Committee chair, Terry Boehm presented our arguments against Bill C-18 before the House of Commons Agriculture Committee on October 9, 2014. The official transcript of his presentation is posted here.
The NFU also submitted a brief. Later, the NFU presented before the Senate Agriculture and Forestry Committee on February 3, 2014 (read the official transcript and brief).
Bill C-18 was supported by public relations campaign orchestrated by Partners in Innovation, an "Astroturf" (fake grassroots) group that claimed to represent farmers, but was actually a mouthpiece for the corporate seed industry. The NFU exposed the Partners in Innovation campaign and discredited its claims.
Although Bill C-18 was passed, the NFU was instrumental in getting a very important amendment passed. The original Bill would have given exclusive rights to stock (store) seed to the PBR-holder, rendering the farmers' privilege to reproduce and condition seed meaningless. The amendment added the stocking of seed to the farmers' privilege provisions, which provides more space for farmers to exercise their traditional seed-saving practices than would have otherwise occurred.
The NFU issued a press release after Bill C-18 came into force, Seed companies, not farmers, will gain with Bill C-18 Royal Assent, says NFU. It included the following statement by NFU President, Jan Slomp:
Restrictions on farmers' seed saving, and the massive transfer of wealth from farmers to seed companies that will follow, are not necessary for the development of useful new varieties. It is a shame that Canada\'s government has decided to pass a law that will enrich some of the wealthiest and most powerful global corporations at the expense of Canadian farmers and the biodiversity of Canada's food system."