Young Farmers gathering in Red Deer Alberta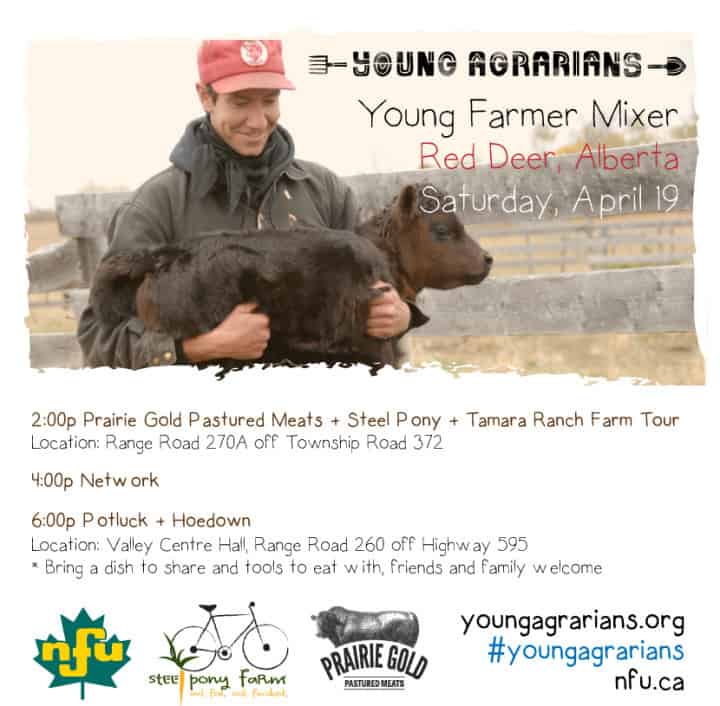 If you are near Red Deer or know anyone in the area please join us and help spread the word; NFU Youth and Young Agrarians (YA) are organizing a Young Farmer Mixer in Red Deer Alberta this Satruday, April 19.
For the past three years NFU Youth has been collaborating with YA as they have worked to build their organization and network to connect and support young farmers in BC. They have made big strides in BC and have been really succesful at bringing young farmers together. This March, NFU Youth members gathered on Vancouver Island for their annual gathering. This event was planned to coincide with the YA first Young Farmer Mixer to take place on the island. For one day NFU Youth members joined in on the YA event and had a great time connecting with young farmers on the island, taking part in workshops (as well as NFU Youth members leading a workshop on intensive grazing), presenting a cross-canadian panel of young farmer NFU members, sharing food, and partying late into the night. It was a great experience. One of the outcomes was an interest in hosting more events like this in different parts of Canada. NFU Youth members are excited to be helping organize and participate in the first YA Mixer to take place outside of BC, in Red Deer Alberta!
This type of collaboration and focus on supporting young farmers is a critical and valued part of the work that the NFU does. As expressed in its policy, developed by members through a participatory deomcratic process: "Given the rising average age of current farmers, and the increasing number of barriers preventing young people from entering farming, the NFU shall work with like-minded individuals and organizations to promote policies and programs that support the entrance of new farmers into food production." [Nov.'05]
We hope you can join us in Red Deer and help spread the word! Check out the facebook event page where you can sign up, connect with other participants and invite all your friends: https://www.facebook.com/events/778237785520946/
Please note that this is not an exclusive young farmer event, all ages as well as non-farmers are welcome and encoraged to join!
Alex Fletcher farms at Wind Whipped Farm in Metchosin BC. He is the Youth President of the National Farmers Union.